Warmwater Flies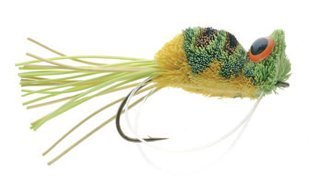 Warmwater flies represent one of the faster growing segments of fly fishing which naturally equates to fly tying. Aided by a long season and increased popularity, both bass and carp fly pattern numbers are on the rise.

Our Warmwater fly recipe library is subdivided into the categories of bass, carp, panfish, peacock bass and pike/muskie. Bass patterns are further subdivided into surface and sub-surface patterns. Pictured here is a spun deer hair pattern called Dancing Frog designed by Jim Stewart.

Individual patterns range from simple rabbit strip pike fly designs to complicated multi-color and multi-material peacock bass designs. These are for the most part large flies that often allow the tier to use interesting and different hook styles. Poppers offer the tier a completely different type of experience that requires painting skills as well as tying skills.