Peacock Bass Flies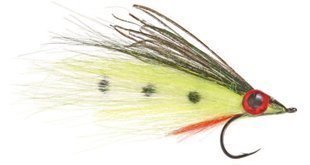 Peacock bass flies offer the tier an opportunity to create big and bold fly patterns in the same aggressive nature as this awesome fly rod quarry. In order for Peacock Bass patterns to be effective they need to push a good deal of water. You can often see this trait in the form of wide and/or high profiles with outboard splayed eyes and hackle collars. Some patterns substitute wide and high for long and lean looking profiles that also create the image of a large prey species. In either case, size is what matters here to entice this apex predator. Pictured here is a good example of the type of patterns used called Peacock Agitator designed by John Fuchs.

Durability is also a consideration in building Peacock Bass patterns due to the overall situation. In many cases, the angler is blind casting over and over, usually into cover putting the fly through a good deal of abuse. In addition, the angler is normally in a remote part of the Amazon basin with limited access to additional flies or tying materials.

Patterns for Peacock Bass can also be categorized into surface patterns or sub-surface patterns. Generally speaking, sub-surface patterns far out number surface patterns, which is a direct result of the success rate of the fishing tactics used to pursue these giant cichlids.

Big Boy Popper (Blue/White Color Scheme) Pattern Recipe: Hook- TMC511S, Head- Number 2 Saltwater Popper Body painted to desired color, Tail- White Streamer Hail tied to be about 6" long from back of popper body, Collar- White bucktail, Eyes- 7mm Doll Eyes white with black pupils.

Lefty's Big Fish Deceiver (Blue/White Color Scheme) Pattern Recipe: Hook- TMC811S, Thread- White 3/0, Tail- Ten strands of Rainbow Krystal Flash, Body- White 3/0 thread, Wing- Dyed fluorescent blue and white bucktail with eight long white saddle hackles, Throat- Red Krystal Flash, Head - Painted royal blue, Eyes- Small Prismatic. Pattern Designer: Lefty Kreh

Umpqua Red Pike Fly Pattern Recipe: Hook-TMC8089, Thread- White single strand nylon floss, Weedguard- 20 lb Mason Hard Nylon, Tail- Gray and red hackles mixed sparsely with pearl Krystal Flash and long center section of Red and White Super Hair with two strands of Pearl Flashabou, Collar- White and red dyed deer hair spun and trimmed to shape, Head- White, black and red dyed deer hair spun and trimmed to shape, Eyes- White and black 3-D plastic.

Whistler- Flashtail (Pink & White Color Scheme) Pattern Recipe: Hook- Mustad 34185S Jig Hook, Thread- White single strand flat floss, Eyes- Painted yellow with black pupil lead barbell, Tail- White and pink bucktail with multi-colored Krystal Flash and a long extension of Silver and Pearl Flashabou, Body- Wrapped red chenille, Hackle- White wrapped as tall heavy collar. Pattern designer: Dan Blanton